Life has come at us fast the last while.


Nephew Derek is safely home from Iraq, he called his parents from Maine at 4:30 this morning. Yay!


Last Monday Kim and Nathan announced that she has been accepted in grad school in Duluth, they are selling their home in the St. Cloud area and moving this spring:


Normal duties for Howard have kept him going close to 60 hours a week:


Still strugging with migraine residuals that make everything difficult.
We NEED a vacation!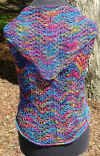 I'm pleased to announce that I'm going to be knitting the Elegantly Simple Triangular Shawl in Heritage Yarns' Black and White in a Rainbow World (pictures to come soon!) We've started a blog to log our adventures here. I think it is going to be fun. I love the yarn, and have been bugging Margaret to dye this colorway. grin

This should be good vacation knitting, don't you think? We have declared a vacation toward the end of April. We are also going to fly out to California in June to visit Howard's family, hopefully see Derek, and relax by the ocean for a week.